Blog
Useful and smart tips from the world of energy
Reimbursement of energy costs: all information in one place
Home, Savings
In order to mitigate the rise in energy prices, the Estonian state has developed a number of measures to help cope with the difficult situation. We will review the most important information about all support measures.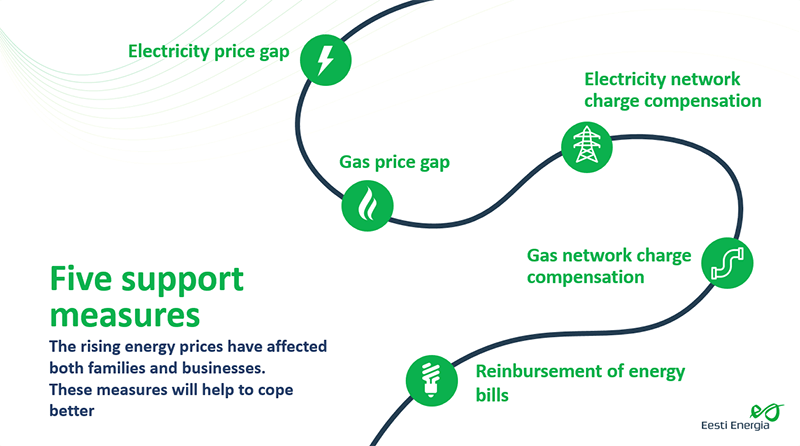 Electricity price cap for household customers 12 cents per kWh for electricity consumption up to 650 kWh.
The price cap applies to all packages if the average electricity price exceeds 12 cents / kWh. If you have an Exchange price, then also the average monthly electricity price is taken into account. The average price also includes the margin and the monthly fee. The price cap is automatically reflected on the invoice and you do not have to do anything yourself.

How is the compensation for the electricity price cap calculated?

1) The average electricity price is calculated. For this purpose, the cost of electricity shown on the bill (incl. monthly fee) is divided by the number of kilowatt-hours consumed in the respective month.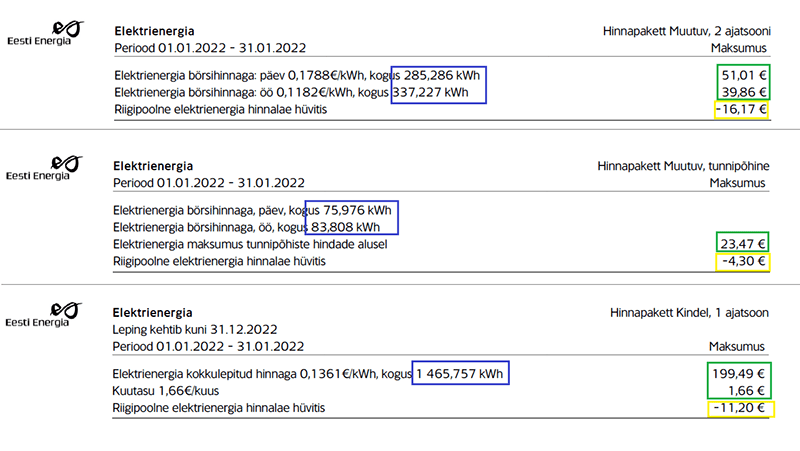 Example 1: if you consumed 200 kWh of electricity and paid a total of € 40 for it, your average electricity price was 20 c/kWh. This is over 12 c/kWh and means that the price cap applies.

Example 2: if you consumed 200 kWh of electricity and paid € 20 for it, the average electricity price is 10 c/kWh. It is less than 12 c/kWh and the price cap does not apply. The electricity bill is then zero on the compensation line.

2) The amount of compensation is calculated. If your average electricity price was above 12 c/kWh, the price cap will be deducted from the average price and multiplied by the number of kWh consumed. If more than 650 kWh is consumed, it is multiplied by 650.

Example 1: if you consumed 200 kWh of electricity and the average price was 20 c/kWh, then the calculation is (0.2-0.12) x 200 = 16. The amount of compensation for your price cap is 16 €.

Example 2: : if you consumed 1000 kWh of electricity and your average price was 20 c/kWh, the calculation (0.2-0.12) x 650 = 52. The amount of compensation for your price cap is 52 €.

Apartment cooperatives are considered to be household consumers and the upper limit of consumption volume (650 kWh) is not taken into account in the electricity bills received by cooperatives in January.

Compensation period: January to March 2022
Electricity price cap for household customers 12 cents per kWh for electricity consumption up to 650 kWh. This means that if the price of electricity, either on the stock exchange or in a fixed-price package, exceeds 12 cents per kW / h (excluding VAT), the state pays that part of the electricity bill.

The price cap is automatically reflected on the invoice and you do not have to do anything yourself. Housing associations and horticultural associations are considered to be household consumers.

In January, the electricity consumption bill received by cooperatives does not take into account the consumption ceiling (650 kWh)

Compensation period: January to March 2022
Gas price cap for household customers 65 EUR / MWh (excluding VAT). The part that exceeds this is compensated by the state until consumption of 2.75 MWh.

The price cap is automatically reflected on the invoice and you do not have to do anything yourself. Housing associations and horticultural associations are considered to be household consumers.

In January, the upper limit of consumption volume (2.75 MWh) is not taken into account for gas bills received by cooperatives

Compensation period: January to March 2022
Electricity network charge compensation: 50% for household customers and 100% for business customers.
This is reflected on the invoices automatically and the customer does not have to do anything.

Compensation period: until March 2022
Gas network fee compensation: 100% for all consumers
It is reflected on the invoices automatically and you do not have to do anything yourself.

Compensation period: until March 2022
Reimbursement of electricity, gas and heating bills for up to middle-income families. Under the measure, families will be reimbursed 80% of the increase in electricity, gas and heating bills.

A household qualifies as a beneficiary if the net income is below the median level. It is calculated at 1,126 € per month per person per family, with the same amount for each subsequent member of the household aged 14 and over weighing 0.5 and for children under 14 weighing 0.3.

It is necessary to apply for compensation yourself. Applications for energy compensation are accepted by all local governments. In order to receive the benefit, you must contact your local government, which will also provide you with more detailed information about applying.

More information on the website of the Ministry of Finance »
As a customer of Eesti Energia, you can easily download your electricity and gas bills from the e-service.

Compensation period: September 2021 to April 2022