Blog
Useful and smart tips from the world of energy
Two Kohtla-Järve guys compose music tracks for energy heroes
Two 17-year-old Arthurs made us a gift of three music tracks that they wrote themselves. According to the young fellows, they hope that it will be much more fun for the energy heroes to start their working day to the music.
Artur Chekhonin, who is the author of the idea of creating the tracks, said that his dad works as a mine rescuer at the Estonia mine. 27 years ago, Aleksei Chekhonin came to the mine for on-the-job training and in 1993 was hired by Estonia as an in-mine wireman. Then he worked for more than 10 years as a stope miner, after which he started working in the mine rescue team, where he still works today.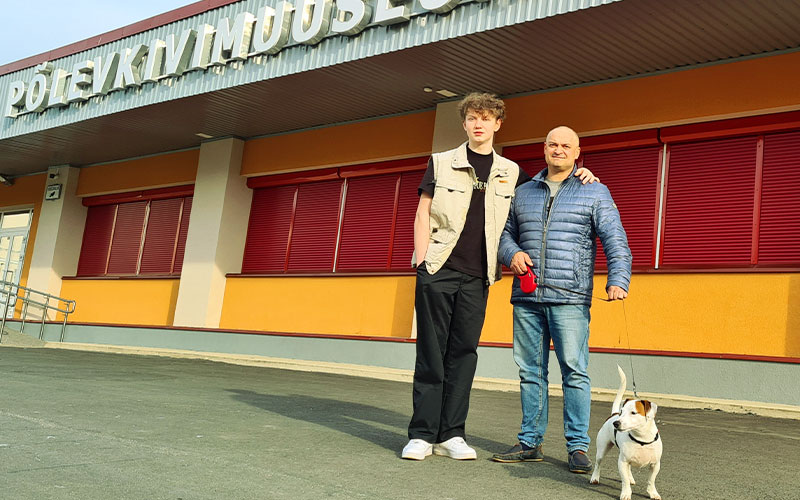 Photo: Arthur Chekhonin with his father and a four-legged family member
"Once we had a conversation at home that my father had a digital information channel at work. When I watched this channel, I noticed that, for example, there are no music tracks in the corporate radio broadcasting program, just some second-long jingles. I found this strange, because I think that it is not at all associated with Eesti Energia and with Enefit Power, which, in my opinion, symbolize strength and energy. This is how the idea came about to create music tracks and video clips for your internal radio," says Arthur, telling us how it all began.
Arthur contacted his friend Arthur Stepanov, as they both are keen on creating music tracks in R&B, hyperpop and hip pop styles. "I know that Arthur's father works in the mine. I´ve also heard that a new company, Enefit Power, was established at Eesti Energia this year. Since in English it means strength and power, we decided to try ourselves in composing tracks in the techno style, because this genre best conveys the meaning of the word and the essence of the enterprise. There is energy and dynamics in it, "explains Arthur Stepanov.
The guys admitted that they had never written music in the techno style before, so the whole process was difficult for them, but at the same time fascinating. "I won't say that it was easy for us to write in this manner, but, personally, I am satisfied with the result and I hope that the energy heroes will like our tracks and it will be much more pleasant for them to start their working day with this music or, on the contrary, go in for sports after work," admits Arthur Chekhonin.
It should be noted that yet another friend of theirs, a student of the Kohtla-Järve gymnasium, Andrei Kazantsev, took part in writing one of the tracks. It is from his lips that the magic "Enefit hero" sounds in the track.
Photo: Arthur Stepanov and Arthur Chekhonin in the creative process
The creators of the music tracks for the energy heroes have the same name, they are of the same age, they live in neighboring houses, and both study at the Ida-Viru Vocational Education Center, specializing in automatics. "We were told at the lectures that the oil shale industry is now moving to another level, as they want to produce energy and at the same time not pollute the environment. Today I am only 17 years old, and this means that I am a representative of the future, therefore I am very sympathetic to the idea of clean energy. I really hope that, having received all the necessary knowledge, I will have the opportunity to join the energy heroes and contribute to the energy sector," says Arthur Stepanov.
The guys also write music together, the only thing is that each one sits at his own computer and keyboard at home. One Arthur - Stepanov has been studying music for 3.5 years, the other Arthur — Chekhonin showed interest in music already in elementary school. "At first, I went to music school and learned to play the piano, but I got bored there. I´ve enjoyed playing guitar with my dad at home much more. Dad taught me the basics, and later, when video tutorials and a phone application for learning to play the guitar appeared, I also began to learn from them. And those were not some compulsory lessons, but a leisure game for me. Today I like to write music using a computer and keyboard, " says Arthur Chekhonin.
Thanks for the great gift, Arthur Chekhonin and Arthur Stepanov!