Blog
Useful and smart tips from the world of energy
New opportunity to make your business green: electricity directly from the wind farm
Business, Renewable energy
Companies wishing to reduce the environmental impact of their operations across the Baltics have actively started using Eesti Energia's solution to conveniently switch to renewable energy consumption and at the same time reduce electricity costs.
"We have focused on energy solutions that directly reduce the customer's environmental footprint. To achieve this we offer our customers a unique solution on the Estonian market, i.e a long-term power purchase agreement (PPA). Customers can buy renewable energy and know exactly where the electricity they buy comes from," explains Agnes Roos, Member of the Management Board of Eesti Energia.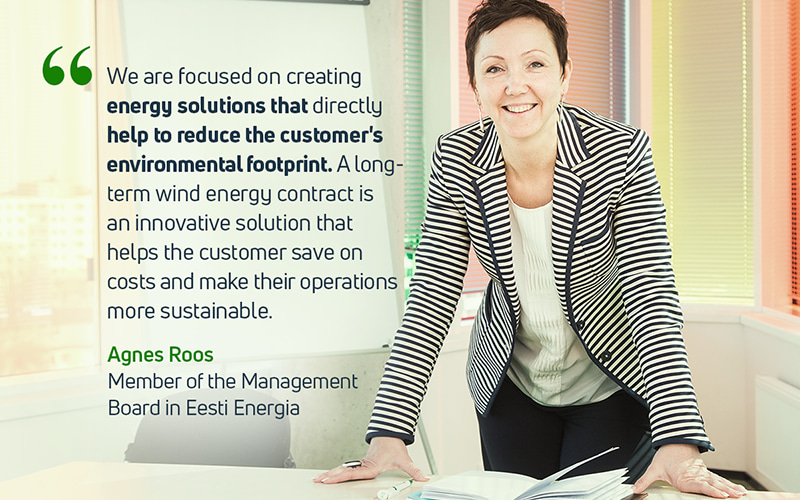 A long-term wind energy purchase agreement allows the customer to fix the electricity price on favorable terms for the desired period. According to Roos, the interest in such a solution has exceeded all expectations. Over one hundred agreements have been signed with companies all over the Baltics. The total volume sold is almost 2 TWh, which is approximately as much as the annual electricity consumption of half a million household customers.
"We are pleased that many large companies have decided in favor of this solution. At the moment, it is possible to fix the price until 2031. The stock exchange price has been very high for the last three months, and we forecast that it will increase or remain at a similar level in the coming years. Compared to today's stock exchange price, a long-term electricity contract allows the company to save up to 30% on electricity costs," adds Roos.
Eesti Energia's customers are making more and more environmentally friendly choices: from choosing renewable energy to solar, heating, and electric car charging solutions. Last year, Eesti Energia built nearly 300 solar power plants with a total capacity of 8 MW for its customers. As a small producer, 2500 customers sell electricity produced in their own homes or companies to Eesti Energia today.
In total, Eesti Energia produced 1.5 TWh of renewable electricity in 2020. It accounted for 40% of the group's total electricity production. The company's CO2 emissions have fallen three times since 2018.