Blog
Useful and smart tips from the world of energy
Trainee Aleksander and his story
We have introduced interns from Auvere and Tallinn, now we are moving on to Enefit Green's Paide Cogeneration Plant! This week, Aleksander Kadel, who finished the second year of Electrical Engineering and Mechatronics at TalTech this spring, will talk to us. He likes to study equipment and get to know the technical side.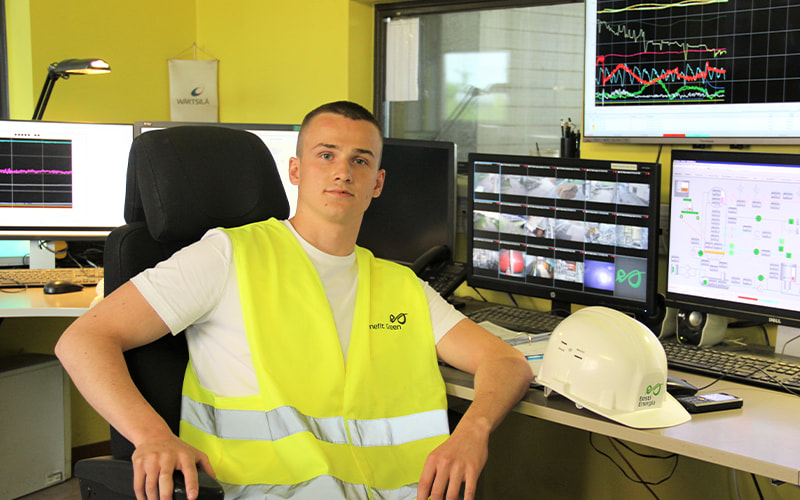 Aleksander is from Tallinn, but he is doing his internship in Paide. "I came to Paide for a two-month operator internship. I live in a nice dormitory, and on weekends I go to Tallinn to spend time with my family and friends. At university, I have learned the basics about electricity generation, but it is not enough to get a complete picture. I became an intern here to get a real overview of how a plant operates," Aleksander said.
Things are not as easy as they seem
"So far, I have become acquainted with the plant and its production processes. The plant is specific and each device requires learning. Things are not as easy as they seem! My first major task was to prepare for the renewal of the water pipeline. My supervisor is Vello Puulmann, Technical Manager, who gave me the house plans which I will update and add measurements to," Aleksander described his current activities and work plans.
"There are nice people in our team with whom I get along well. Everyone plays an important role and there is a lot to learn from everyone," he said.
Aleksander decided to seize the opportunity and try his hand as an operator, because engineering internship lasts only one month
"I thought that if I'm already here, why not try an operator internship. I was able to extend my engineering internship by a whole month, which I am happy about. I have previously done electrical work only for my own use, I am in contact with industry for the first time. Therefore, I am currently doing my first professional job which already provides a lot of new knowledge and skills," Aleksander said.
Where could the journey go from here?
"I specialize in mechatronics at the university, and I think I will go to study for a Master's degree. I'm interested in everything related to automation and computers. As a child, I wanted to become a pilot, but at the same time I was dealing with electrical equipment. When I was ten, my grandfather gave me a soldering machine. I'm interested in technology in terms of how it works inside, not what can be done with it. In the future, I would not want to manage a plant, but to develop a system that would manage the plant independently," Aleksander said about his future plans.
In a short time, Aleksander has learned much about Eesti Energia
"I like that there are an extraordinary number of smart solutions in use, as well as the intranet and digital security of the workplace! Prior to the internship, I could not imagine that the group had so many subsidiaries. In addition, there are many opportunities for development and sports, which I really appreciate," Aleksander said about the experience he has gained. "I would definitely recommend my friends to come here for an internship," he added.