Blog
Useful and smart tips from the world of energy
Trainee Mirko and his story
We met Mirko Nõmmsalu, who is going through the internship of a solar electricity specialist to learn what it feels like to make theory into practice after the first course. One thing is for sure – if there is courage and will, then there are no obstacles for self-development in different areas.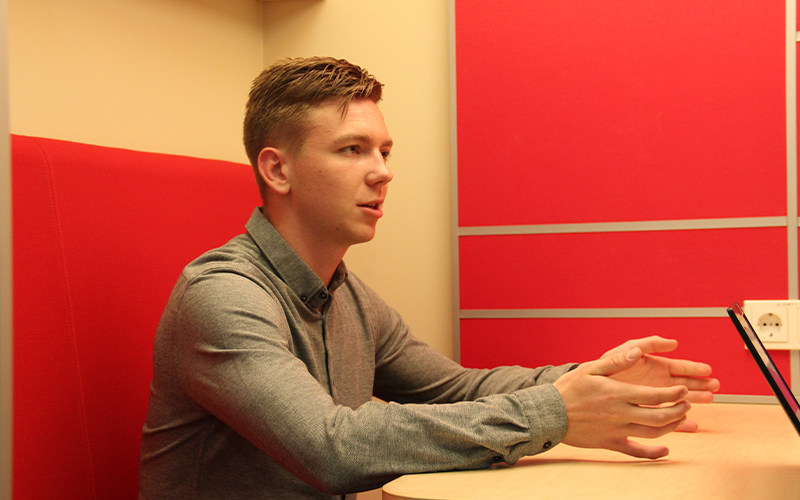 Mirko, tell us a bit about yourself – where are you from, who are you?
I am a 21-year-old boy from Tartu. I graduated from high school at Hugo Treffner Gymnasium. Last year I served in the Kuperjanov Infantry Battalion. I had an opportunity to become an intern in the Estonia mine even before the university. This year I finished my environmental, energy and chemical technology first course at TalTech.
In order to get a better idea of your activities in Eesti Energia, first tell us what your first tasks have been.
As a sales engineer, my main task is to prepare price offers for customers who want to start producing solar electricity. I will receive a data package based on which I will prepare a price offer. If necessary, I get more details and visit the site. What panels, how much of these is needed, their costs, production volumes, payback periods – my job is to clarify all of it.
I get a very thorough knowledge of the technical aspects of solar electricity and I also study sales. This is an innovative profession, the knowledge I receive here will not be lost in the future as well. In this short time, I have tried almost everything my colleagues do. I still have a lot to learn, but I have my mentor, Sales Engineer Artyom Bashev, who helps and supports me.
The specialty you are studying is very diverse and offers many opportunities for the future. Where did the interest in starting to deal with solar energy come from?
I haven't learned much about solar panels at the university, but my father has a solar park set up. Probably there came the interest, and I'm also a big fan of renewable energy solutions.
This is not your first internship with us. What did you do before and what brought you back here?
True, I passed the mine foreman internship last year In the Estonia mine. I lived in a dormitory in Kohtla-Järve, and went to the Estonia mine every morning by bus. For me, it was like a different world – new people, a different environment and a very unique job. Now I returned because I also wanted to see a different picture of Eesti Energia. Also, I went to the university and wanted to try my profession out. I follow the principle of gaining as much experience as possible. I thought that I could stay here if the opportunity arises.
Completely different areas. What is different about the current internship?
The first thought that comes to mind – the work environment is different. Lelle office building is modern and innovative! The 11th floor has a wonderful view to every side, and the office has a nice lounge area. Also, I didn't expect to be given so many responsibilities and tasks of the same content as my colleagues do on a daily basis during my internship. I'm happy about that! However, I am very grateful for the opportunity to work in the mine, because experience is what makes a person richer. I also got a good practice of Russian language. After the first month, I started to understand the language and communicate with my Russian-speaking colleagues.
By now, you have gained experience from the various units of the group and got a complete picture. What kind of company does Eesti Energia look to you?
It came as a surprise to me that Eesti Energia is such a large group. I don't think it's possible to find so many in-house specialists in their fields anywhere else, and you can also easily ask them for advice. There are people here who I look up to.
Secondly, before the internship, I thought that here is a classic eight to five office work, but in fact it is possible to do remote work here – there are computers, the necessary programs and supporting tools. I like being able to plan and my own working hours and work at my own pace. The main thing is that the work is done. It was interesting to me that many people started to like remote working after the recent events. I have only seen some team members virtually.
The work of a solar electricity specialist is certainly not one of the easiest. What has been the most challenging so far?
While I was just learning to make price offers, I received a task from my mentor to make price offers to three large industrial buildings. I had to read the dimensions of the buildings from the drawings, make 3D drawings, calculate the possible total capacity of the panels and solve the problems related to network connections.
It was like an awakening for me! Now I feel that the biggest challenge is talking to customers. Each call is a new experience and there is much to learn from it. Also concerning the panels – every house and object is different and every situation is new to me. I feel that I have to jump into the so-called cold water as much as possible in order to be able to cope well with the tasks.