Blog
Useful and smart tips from the world of energy
Trainee Matvei and his story
What does the work day of a chemical engineer look like? This is what Matvei Ivanov came to experience for two months of the summer. He is completing Master's studies at the Heriot Watt University in Scotland, in the field of Chemical Engineering with Energy Engineering. We talked to Matvei about activities within Eesti Energia and the world at large.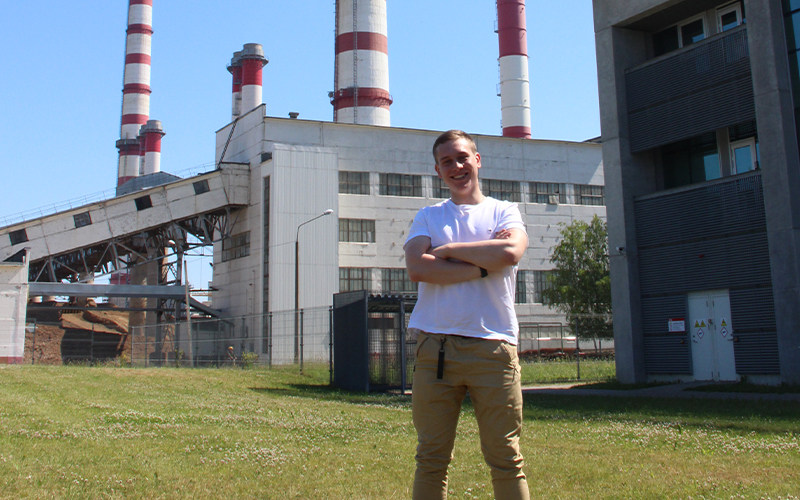 You are studying in Scotland, but you returned to Estonia and to us for your internship. Why did you decide in favour of Eesti Energia?
The Eesti Energia team is full of bright and experienced people, working with whom is very challenging and educational. I immediately realised that the people here are not afraid to try anything new. Eesti Energia has expanded its fields of activities, thanks to talented people and future oriented ambitions. I can say with certainty that I am happy and proud to be a member of such a unique organisation.
You decided to study chemical engineering, unlike many others. Tell us more about the background of your decision.
I did not want to become an astronaut or policeman, unlike some other children. My father worked at Eesti Energia and this probably affected my career choice. I also wanted to challenge myself, in the energy and production sectors. I was in the meantime tempted to go to law school, to become a lawyer. I graduated, as you can see, from the field of chemical engineering and this has proven to be the right choice for me. It is at the same time fun and challenging, while forcing me to develop myself.
Say in what unit you are active and what have you already been able to put your hands on to?
It initially took time, to understand at all, how things in Enefit Energiatootmine work. I have by now examined various drawings and manuals, to understand how things have been constructed and according to what principles, different processes function. I will in the future start simulating processes or search for problems in production and solve them. My mentor is Mihhail Kaev, the manager of the oil production service of Enefit Energy Production. The whole team accepted me well – when needed assistance is offered, explanations given and in general the atmosphere is very good here.
What is the most exciting part of your job?
I would say that the coolest experience is doing actual engineering work, which has proven to be exciting and challenging for me. It is already of utmost interest to learn and see, the complex production process that is equipped with several unique solutions. The opportunity that I have, to contribute to the company, is even better than that.
Where do you see the future taking you?
I think I will continue to be involved in the field of chemical technology, as it really interests me. It turns out that I have now reached the point, towards which I have been striving for many years. I want to deal with work, in my field of specialisation and obtain different experiences. I would in the future, like to use my knowledge and skills, to make the world a better place. I want to initiate changes that create value. I see myself in the future in Estonia, as here there is potential and opportunities for development. I can also use my international experience, here in Estonia.
You are studying abroad and possess an international view of the field. What potential do you see for the chemical industry and how do you feel about our plan to build a new oil plant?
The potential of the field is enormous. Almost everything we use and see around us, is connected with the chemical industry. I see a particularly great potential for the plastics industry. Eesti Energia is able to develop and see opportunities in new directions. I think the new oil plant is a very correct idea, but many people do not understand, in essence how these processes work and the lack of knowledge creates conflict. The new oil plant additionally will create new jobs in the region. It is a good decision, economically, socially, as well as ecologically. The new oil plant complies with European Union standards and norms.
You have spent time as a trainee both in Estonia and abroad. What recommendations would you make, to students starting an internship?
You just have to try. I did not plan on starting an internship for example, but at one moment I was wondering, why not? It is always worth it to try, as even if it does not take you in the desired direction, it is certainly a beneficial experience. I have repeatedly applied for different internship positions and I have not always been selected everywhere, but I have tried again and again. If you really want something, anything is possible!