Eesti Energia to offer customer-oriented products and services under the Enefit brand
As of January 2024, all activities and expertise related to customer service and energy services will be transferred to a subsidiary, which will bear the Group's international name Enefit. All existing contracts will remain valid and customers do not have to do anything about the change.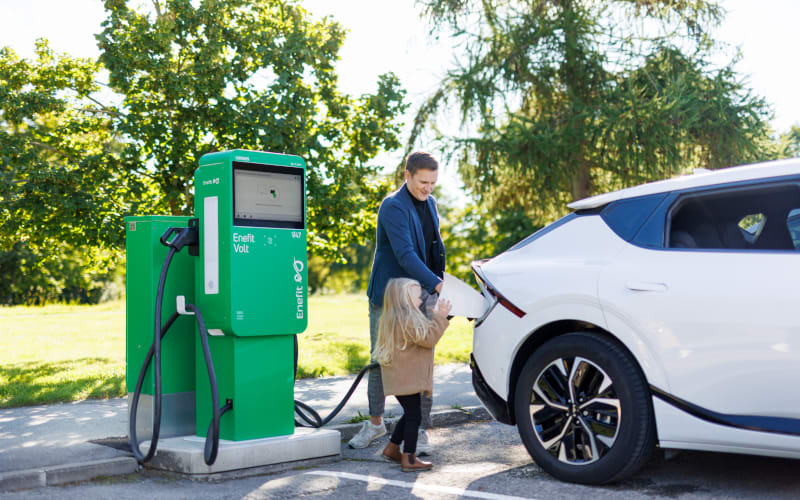 'We want our customers to get even more support and assistance from our energy experts, both in terms of smarter energy solutions and better customer service,' said Kelli Toss-Kaasik, Member of the Management Board of Eesti Energia, explaining the establishment of a separate, customer-oriented subsidiary. 'When building the new business, we made sure that the process of finding and installing the best energy solution for the home or business is smoother for our customers and that they always have the necessary support of Enefit's experts,' Toss-Kaasik added.
Enefit will take over the following products and services previously offered by Eesti Energia: electricity, gas, solar solutions and energy storage devices, heat pumps, insurance, high-speed internet, electrical work, and electric car charging solutions known under the name of Enefit Volt.
Furthermore, the organization will persist in the advancement and promotion of energy solutions aimed at enhancing the eco-friendliness and affordability of individuals' energy consumption.
Eesti Energia started rebranding in 2009 and has since been known internationally as Enefit. Under this name and brand, Eesti Energia also offers customer services in Latvia, Lithuania, Poland and Finland, where two thirds of its customer services revenue is generated. Eesti Energia subsidiaries Enefit Green, Enefit Power and Enefit Solutions also operate under the same brand both in Estonia and other markets. Eesti Energia as the parent company will retain its name.
The Chairman of the Management Board of Enefit will be Kelli Toss-Kaasik, who will also continue as a Member of the Management Board of Eesti Energia. Business development of the company will be led by Deepak Ahluwalia, customer experience by Reedik Poopuu and retail market sales by Roul Tutt. Enefit will have around 550 employees across five countries, 300 of whom will be based in Estonia.
From the new year, all current Eesti Energia customers will become Enefit customers. As of 1 January 2024, the contractual rights and obligations of Eesti Energia customers will be transferred to Enefit OÜ. In January 2024, Enefit OÜ will be converted into a public limited company and the company will continue to operate as a subsidiary of Eesti Energia AS Group.
Customers do not have to do anything about their contracts. Banks will automatically redirect customers' standing orders to Enefit. The contact details of our customer service will also remain the same.
For private customers: tel 777 4040 (Mon–Fri 8:00–18:00, Sat–Sun closed), [email protected]
For business customers: tel 777 2020 (Mon–Fri 9:00–17:00, Sat–Sun closed), [email protected]
Questions and answers about the change