Eesti Energia trainees joined the SEB Youth LAB
For the sixth year in a row, SEB is organising a paid, innovative internship program, Youth LAB. This year, a record number of more than 1,600 young people applied in the Baltic states, 83 of whom were chosen. Of the selected trainees, 25 started in Estonia, 32 in Latvia and 26 in Lithuania. The most popular fields in Estonia turned out to be product development and technology.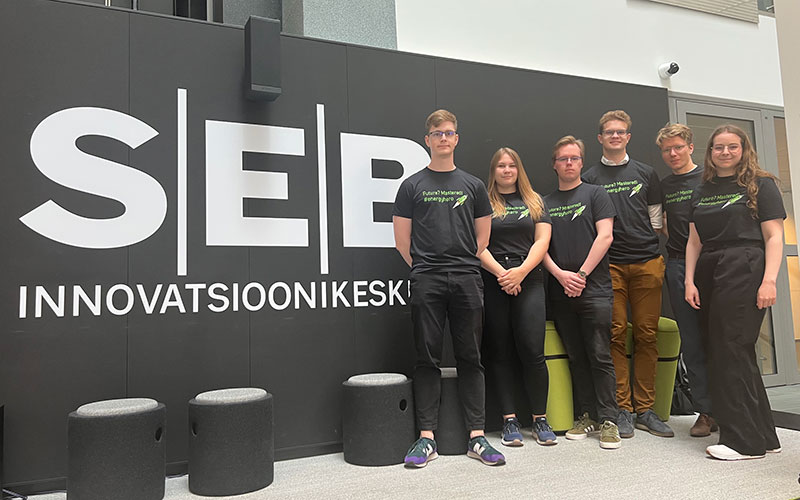 Youth LAB is an internship program for young people in the process of getting their bachelor's or master's degree, who want to gain new knowledge in the summer, value professional development and aim to become specialists in their field. 'SEB is an outstanding employer in the finance and IT field, and I'm glad to see this confirmed by the great interest of economics and technology students in applying for this year's internship program,' said Margit Pugal, Head of HR and Training at SEB. 'The most popular fields in Estonia proved to be product development and technology, and many applicants also vied for internships in the fields of major and corporate clients.'
In cooperation with experts in their field and companies supporting innovation, as part of international teams the youth will solve tasks that help them get to know their field and see a bigger picture of the world of economics.
Collaborating with Eesti Energia to create innovative solutions
This year, trainees of Eesti Energia will also take part in the program, with the aim of joining forces in the development of innovative solutions. 'We found that such an innovative partnership is a great way to co-create – trainees will solve challenges important to SEB and Eesti Energia, during which they will examine customer issues, test new ideas and come up with innovative solutions,' said Kristina Lillo, Innovation Lead at SEB. 'Through collaboration between the companies and international challenges, we want to increase the partnership of major organisations and solve larger challenges together. I believe what gives us an edge is the innovative structure and collaboration, as well as the opportunity to work together to create more unique solutions for our customers.'
Kadi Steinberg, Head of Enefit Idea Hub and New Service Development, also highlighted the opportunity to gain new internship experiences and create innovative solutions: 'The energy world is at a pivotal moment, with both energy producers and consumers increasingly looking for environmentally friendly solutions. The task of Eesti Energia is to offer customers convenient and comprehensive energy solutions, thereby helping them move towards a greener future.'
She added that Eesti Energia has more than 100 trainees during summer, who in previous years have been involved in the development of innovative energy solutions as part of the in-house business accelerator. 'It has been a very exciting experience for students, allowing them to actively contribute to the development of future services,' Steinberg said. 'This year we have decided to take a step further and join the SEB Youth LAB program to diversify the development of new energy solutions and enrich the summer program of our trainees. In order to go further and be faster, we need to work together.'
The Youth LAB program lasts from early July to mid-August.