Enefit Volt will replace 38 Elmo charging points this summer
Estonia's largest electric car charging network Enefit Volt will install 38 new fast charging points this summer, replacing charging points that were previously part of the Elmo network.
Replacing charging points installed a dozen years ago with modern charging points suitable for modern electric cars is a part of Enefit Volt's plan to significantly grow the public charging network, while at the same time increasing the accessibility of charging points for electric vehicle users.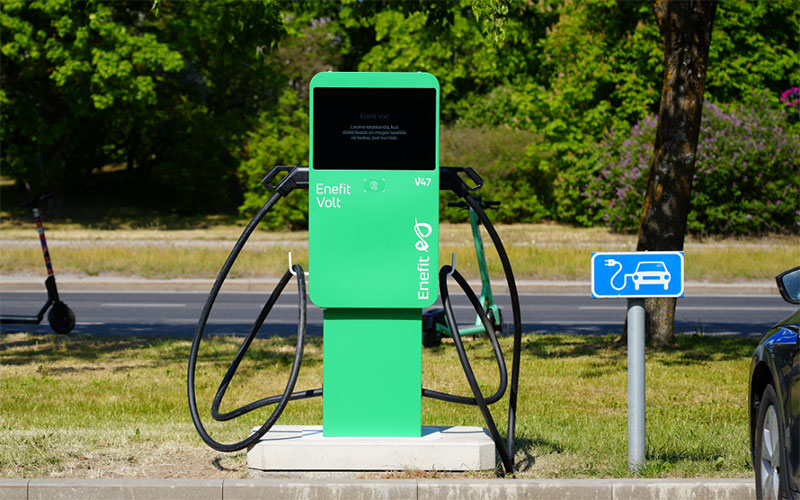 According to Kert Pääbo, Business Development Manager at Enefit Volt, the charging points that are about to be upgraded are mainly located in the city suburbs and in rural areas, where there is a growing need for charging solutions.
'By the end of next year, we will replace 79 existing Elmo charging points across Estonia. Nearly half of them will be updated during the summer, starting to offer charging opportunities for 76 vehicles both around apartment buildings and outside the city boarders,' said Pääbo.
Today, the first charging points have received a new and more modern look, and can be seen in Tallinn when visiting Ülemiste, Väike-Õismäe, Pirita, Mustamäe, Sõjamäe, Sadama, Rahumäe and in Padise at the Valla Pood and Märjamaa near the central square. 'Elmo's charging points installed in 2011 were designed for the fast charging of Japanese cars using the CHAdeMO charging standard. Nowadays, the CCS standard, dominant in Europe and the United States has become the most common, and therefore, we install new dual-port charging points for the charging of this type of electric car,' Pääbo explained.
After this wave of innovation, the number of chargers suitable for CCS-standard vehicles in Estonia is estimated to increase fivefold.
In the coming months, in addition to Tallinn, the charging points that have undergone the upgrade can also be seen in Vormsi, Emmaste, Kuivastu, Karksi-Nuia, Kilingi-Nõmme, Paide, Rakvere, Tartu, Jõgeva, Rõngu, Värska, Kohtla-Järve and several other places. See the map for the exact locations of the chargers.
However, according to Pääbo, this does not mean that the work on the development of charging options is done. 'The quality of infrastructure and service must move a few steps ahead in view of the growth prospects of electric cars. We are actively looking for ways to create new charging points and we are calling on service providers such as shopping malls or accommodations and other companies, to work together to create the best charging options for our customers.' If you are interested, please contact us by email at [email protected] or call +372 777 3030.
Enefit Volt is the largest electric car charging network in Estonia. Our 100% green electricity network is constantly evolving, offering fast and ultra-fast charging for electric cars with CCS, CHAdeMO, as well as universal Type2 charging standards.