Enefit Volt in cooperation with Kehra Business Centre established the first public electric car charging station in Kehra
On Thursday, June 1, the town's first Enefit Volt public charger with a capacity of 22 kW started operating in the car park of Kehra Business Centre. The project is a collaboration of the two companies, which aims to ensure we are ready for the electric future by bringing innovative charging solutions closer to consumers.
Enefit Volt has embarked on a major expansion of its electric car charging network. We do so in order to contribute to the breakthrough of clean transport, which prioritises the availability of high-quality, accessible and fast charging infrastructure. According to Kert Pääbo, Business Development Manager at Enefit Volt, it is important to cooperate with service providers like shopping centres, accommodation establishments and other companies where charging stations are most used.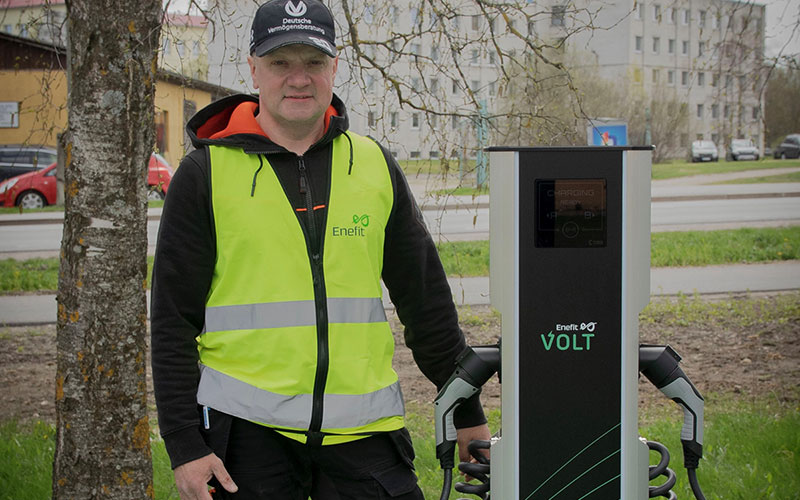 'We have developed standard packages for our partners and are ready to cover a significant portion of the investment to create the charging capability. This is what we did with Kehra Business Centre, which approached us with the desire to cooperate. We agreed that the whole project, ie the chargers and their installation, would be financed by Enefit Volt. They, however, provided the free capacity,' Pääbo said.
In the future, it will be possible to install a second charger of the same type in the car park. 'Preparations for subsequent charging stations have already been made,' Pääbo said. 'Both the existing charger and the one not yet installed are Elinta CityCharge V2 chargers that can charge two cars at once. A 22 kW charger is well-suited to the conditions of the office building and is also more affordable overall.'
According to Pääbo, it is good to see that Estonians' interest in electric cars is growing, and that you can see more and more of them around. 'As the share of electric cars increases, the more important it is for users that key locations, such as grocery stores and shopping centres, have charging facilities,' Pääbo added. 'Over time, this may become a deciding factor in choosing one place over another. Companies that understand this now will gain more customers in the long run.'
Clean transport will only be possible if there are easy and convenient charging stations available everywhere. Enefit Volt invites other companies to come forward to work together to create the best charging options for customers. If you are interested, please email [email protected] or call +372 777 3030.
Enefit Volt is the largest electric car charging network in Estonia. Our 100% green electricity network is constantly evolving, offering fast and ultra-fast charging for electric cars with CCS, CHAdeMO, as well as universal Type2 charging standards.
More information can be found on the Enefit Volt website or in the charging app.