Innovative Enefit technologies gives new green life to oil shale and waste plastics
Over the past several years, Enefit has been working extensively towards full commercialisation of co-processing waste plastics, end-of-life tires and oil shale using the Enefit Technology. Together with our partners at Tallinn University of Technology and Enefit Outotec Technology (EOT), we have proven that Enefit's pyrolysis plants are suitable for chemical recycling of various waste mixtures. The process began with a concept proof, a few years back, at the most professional academic level.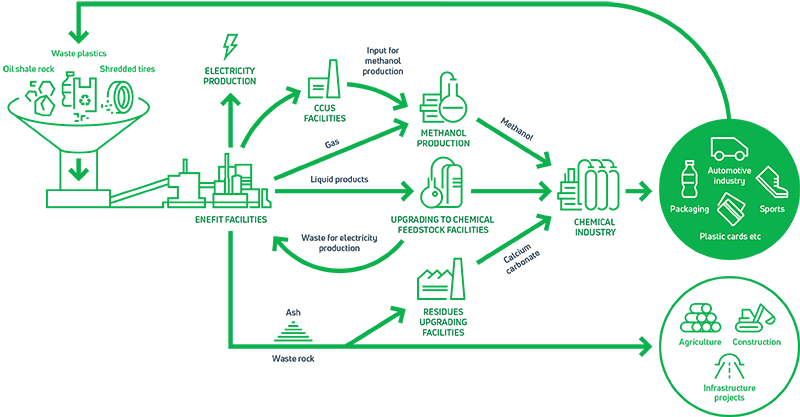 Later, through full, stable operation at EOT's unit in Frankfurt, Germany, Enefit has successfully proven that a broad range of plastic types and compositions, even ones which are currently considered to be difficult to recycle through conventional means, can be utilised together with oil shale. The end products will be highly valuable chemicals, recycled oil, and other goods for the industry, which meet the same strict quality and environmental specifications as the conventional product.
This exciting advancement in Enefit Technology is intended to improve both the environmental and economic performance of Enefit's pyrolysis plants, where waste plastics can produce more than three times the amount of oil compared to oil shale. Relying on more than four decades of proven experience and commercial operation in the Enefit140 and Enefit280 units, our newest facility, the state-of-the-art Enefit282 plant, will include some of the most innovative and most advanced technologies available on the market.
Enefit is committed to environmental values and will do all it can to promote the principles of circular economy, by addressing one of the worst environmental problems in modern times – "the plastic waste epidemic". In addition, we plan to begin co-processing of waste tires in our operational Enefit140 plants in the coming months and will run the additional industrial scale-up of waste plastic co-processing in our Enefit280 unit, during this year, with full commercial operation following not long after.