Enefit Green is going to build a new wind park in Lithuania
Enefit Green, the largest wind energy producer in the Baltics, has made a final investment decision to build a 43 MW Šilale II wind park in Lithuania which is expected to become operational by the beginning of 2023.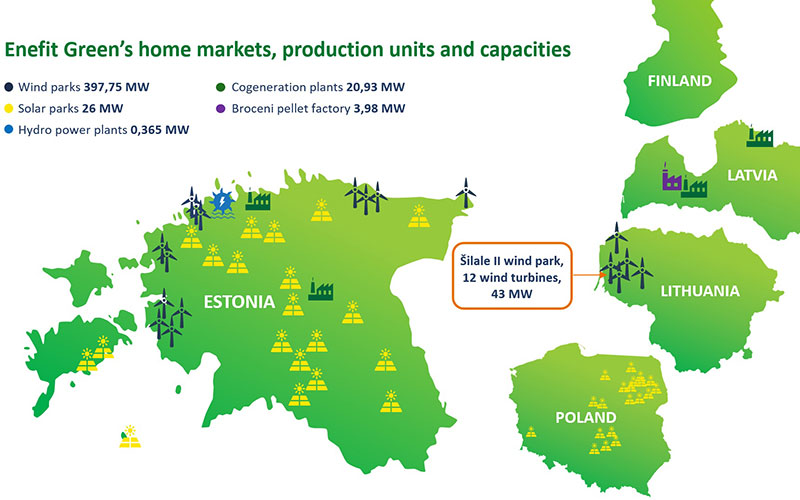 The investment decision will enable Enefit Green to erect 12 wind turbines with a nominal capacity of 3.6 MW. The Šilale II wind park construction will cost about 60 million euros and add each year to the current electricity production about 160 gigawatt-hours, i.e. almost 14% of the company's current annual wind production.
"Our second wind park in Šilale region is significant, because it will be created in cooperation with Eesti Energia's business customers all over the Baltics. Businesses are increasingly looking to consume local renewable energy to reduce their environmental footprint. Enefit Green on the other hand has willingness and ability to produce enough green electricity to meet their expectations. Such a partnership creates a driving force," commented Aavo Kärmas, Chairman of the Management Board of Enefit Green.
The long-term power purchase agreement offered by Eesti Energia to its customers is a new and useful opportunity for companies to undergo green transition. Customers can buy renewable energy and know exactly where the electricity they buy comes from. A three- to ten-year power purchase agreement offered by Eesti Energia allows the customer to fix the electricity price on favorable terms for the desired period.
"It is gratifying to see that companies are actively taking steps towards a cleaner future. The quantities of renewable energy sold in advance support the faster implementation of Enefit Green's development projects from Finland to Poland," said Kärmas and expressed hope that the wind park built with help of partnership of this kind will create a solid ground for new investments and expansion of the production portfolio.
The construction of the new wind park is about to start as Enefit Green has signed a contract with international wind turbine manufacturer GE Renewable Energy. "We carried out a procurement to find a company who would build the wind park. GE Renewable Energy is well established and known company. We are using GE turbines in three of Enefit Green's existing wind parks. So their technology and teams professionalism is known to us," added Kärmas.
The total capacity of the wind parks owned by Enefit Green is 398 MW and they produce about 1,1 terawatt-hour of electricity per year. In March this year, the company announced that it would build about 20 MW wind farm in Purtse, Ida-Virumaa, which is expected to become operational in 2023.
The implementation of Enefit Green's development projects supports the Eesti Energia Group's strategy to gradually switch to renewable energy production only.
Enefit Green is a company belonging to the Eesti Energia Group, which owns a total of 22 wind parks, 4 cogeneration plants, 38 solar power plants, a pellet plant and a hydroelectric power plant in four markets – Estonia, Latvia, Lithuania and Poland. In 2020, the company produced a total of 1.35 terawatt-hours (TWh) of electricity.