Enefit Power, IVIA and the City of Narva signed a cooperation agreement to build direct power lines for large consumers
As a result of the cooperation agreement between five parties, an infrastructure and connection point will be built between two industrial parks – Ida-Virumaa Industrial Area (IVIA) and Enefit Narva Technology Park, enabling two large electricity consumers – Aquaphor International and MAST Europe, to connect to Balti Power Plant via a direct power line. By connecting to the direct line, companies' expenses on electricity will decrease by about 30%.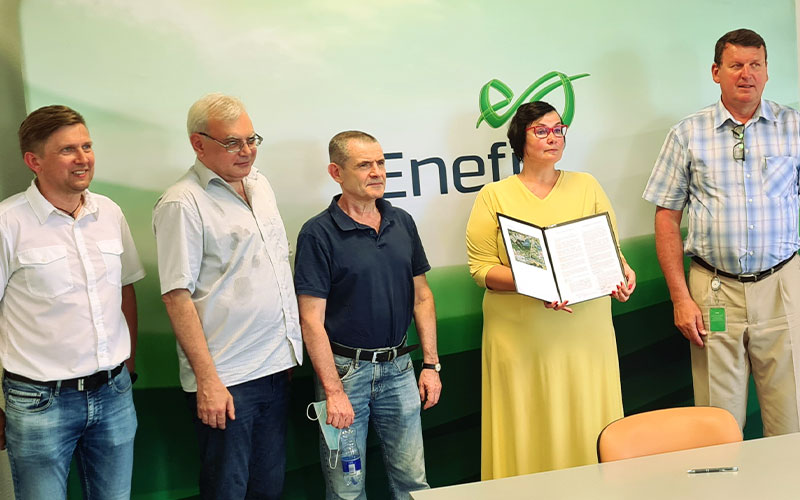 According to Andres Vainola, Chairman of the Management Board of Enefit Power, this is an example of good cooperation where two industrial parks join forces to provide the companies in Ida-Virumaa with the best growth opportunities.
"Balti Power Plant is in the heart of industry, providing electricity to companies and the region, creating high value-added jobs and giving a significant competitive advantage, because by connecting to a direct line, energy-intensive industrial companies can get cheaper electricity by the network fee," Vainola said.
Eesti Energia plans to convert its Balti Power Plant to renewable energy by 2025. As a result, companies in the industrial park will also be able to use greener and cleaner energy in the future. "The customers of Enefit Narva Technology Park currently consume electricity produced approximately 30% from waste wood," said Vainola.
Aquaphor International OÜ and Mast Europe OÜ that will connect to the infrastructure to be completed in a year are located in the IVIA industrial area, which is up to 2 km away from Balti Power Plant.
The connection capacity of Aquaphor International OÜ is currently 2 MW, but over 10 MW will be needed in a 5-year perspective. The connection capacity of Mast Europe OÜ is currently 4 MW and will need to increase to 6-8 MW in 5 years.
For the two large consumers, the total expected electricity consumption would initially be about 40 GWh per year, doubling gradually by 2025. "With such volumes, electricity costs can be reduced by almost 30% compared to their current costs," Vainola said.
According to Teet Kuusmik, Head of IVIA, the signing of the cooperation agreement and its implementation will create an additional unique sales argument for attracting foreign direct investments to Ida-Virumaa. "The direct line will guarantee a better price for large electricity consumers and thus a significant competitive advantage," Kuusmik said.
According to Katri Raik, Mayor of Narva, there are 3,500 unemployed people in Narva. "Preserving jobs and creating new ones is the primary challenge for the City of Narva. Vacant and qualified staff as well as lower electricity prices are definitely bonuses why investors should look at Narva. Narva is and will remain an industrial city, and it is not a matter of shame, we are proud of it," Raik said.
In August, the Narva City Government will turn to the Council again to find financial support for the direct electricity connection.
Enefit Narva Technology Park is located on the territory of Balti Power Plant and offers complete solutions for large consumers – electricity that is cheaper by network service fees, industrial steam, central heating solutions, developed infrastructure, good logistics connections and a closed perimeter with improved security and supervision. It is planned to connect other large consumers from industrial areas to the direct power line to Balti Power Plant in 2023-2025, increasing the annual consumption to over 100 GWh.