Eesti Energia is leading the transformation of the Estonian energy sector
Eesti Energia produced a total of ten terawatt-hours (TWh) of energy in the Baltic States and Poland in 2020, of which electricity accounted for 38%, heat for 11% and shale oil for 51%.
Renewable electricity output was 1.5 TWh, i.e. 40% of the 3.8 TWh of electricity produced in 2020. The largest contribution to the production of renewable electricity, which increased by a fifth over the year, was made by wind farms located in Estonia and Lithuania, producing a total of 1.1 TWh of renewable electricity.
Heat from renewable sources accounted for a third of the 1.1 TWh of heat produced. In total, Eesti Energia produced 1.9 TWh of renewable energy - renewable electricity and renewable heat - which makes up 38% of the Group's total electricity and heat output.
Eesti Energia produced more shale oil than ever before, i.e. 5.1 TWh (452,000 tons), which fulfils the state's expectation to add value to oil shale more efficiently and in an environmentally friendly manner.
The reduction in the carbon intensity of energy production meant that the company's CO2 emissions fell by 35% over the year - from 5.9 million tons to 3.8 million tons. In the last three years, the carbon footprint has decreased more than three-fold.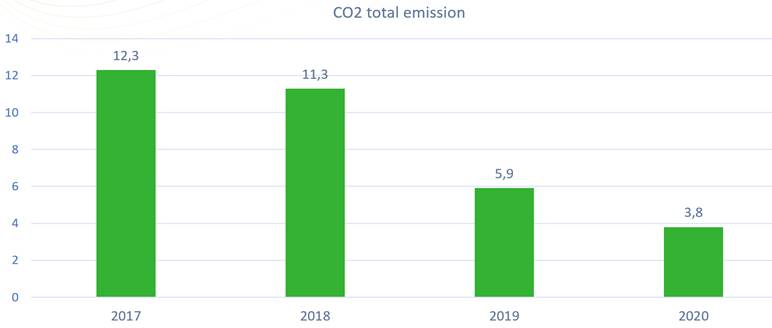 Eesti Energia sold a total of 7.7 TWh of electricity on its home markets, being twice as much as the production volume. Sales of thermal energy amounted to 0.9 TWh and sales of shale oil to 461,000 tons. Gas sales doubled to 2 TWh.
Hando Sutter, Chairman of the Management Board of Eesti Energia, said that the production and sales volumes were strongly affected by lower energy demand due to the coronavirus pandemic and the weather.
"We witnessed the seemingly impossible negative price in the oil market, and for the first time in Estonia, we experienced how electricity consumption was paid for by the seller during a few hours. There was much more uncertainty and price volatility in the energy markets compared to previous years," Sutter commented.
"Based on last year's production results, we see that the energy transformation is not just a story, but Eesti Energia is actively leading it. For the first time, we produced more oil than electricity from oil shale and strongly increased our production of renewable energy, and we will continue to move in the same direction," Sutter confirmed.