Eesti Energia Environmental Day 2020: renewable energy fits well in our backyard
Energy production is more and more dispersed, closer to people's daily activities and inevitably more prominent. We are able to achieve the desired goal of carbon neutrality only with the support of communities, said Hando Sutter, the Chairman of the Management Board of Eesti Energia, at the opening of the company's Environmental Day.
"The development project may be beneficial to society, but it should be implemented further away, not in my backyard. This attitude does not lead life forward," explained Sutter why this year's Environmental Day is entitled "Renewable Energy in My Backyard".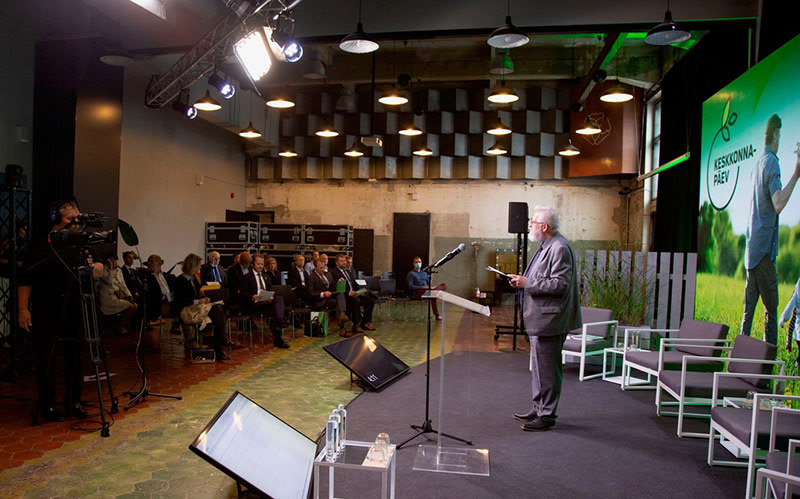 "States and associations of states can adopt declarations and other joint documents, but if it is not backed by the representative of each nation and every citizen, making changes will be difficult. Social agreements and community involvement are a proven path to success - be open, explain and show benefits. I believe that we will hear great thoughts on this in today's discussions," said the head of Eesti Energia.
Sutter was pleased about, among others, the participation of Ulrik Stridbæk, the Vice President of the Danish energy company Ørsted, the world's largest developer of offshore wind farms. "From his presentation on the socio-economic impacts of offshore wind farms, we may also be able to draw a parallel with the impact that Estonia's first offshore wind farm, which we want to build in the Gulf of Riga, could and would have."
Speaking about the benefit of the community, Aavo Kärmas, the head of Eesti Energia's renewable energy company Enefit Green, the largest wind power producer in the Baltic States, expressed hope that in the future there will be uniform rules on how to compensate for wind farm tolerance.
"Both developers and locals should have information in this regard. One option is to pay the local government a fixed amount for each unit of electricity produced from wind. On a larger scale, renewable energy companies could be freely traded on the stock exchange - so that everyone could contribute to development if they wished to do so. This creates a sense of ownership and leads to personal income," said Kärmas.
Eesti Energia has set a goal to produce approximately half of electricity and heat from renewable sources in 2024. Enefit Green is a renewable energy company belonging to the Eesti Energia Group, currently owning a total of 20 wind farms in four markets - Estonia, Latvia, Lithuania, Poland - as well as 4 cogeneration plants, 36 solar power plants, a pellet plant and a hydroelectric power plant.
This time, the traditional Environmental Day will be moderated by Tarmo Soomere, the President of the Estonian Academy of Sciences. The day ends with "Carbon-free Estonia by 2050", a panel of representatives of parliamentary parties, or what are the steps and specific activities in the coming years that will make Estonia a carbon-neutral country in 30 years.
Environmental Day can be watched live on the web throughout the day.
Eesti Energia Environmental Day 2020 program