The Narva quarry introduced the top achievement of industrial mechanical engineering
On Wednesday, Eesti Energia and Baltem organized at the Narva quarry the world premiere of the new environmentally friendly, 113-tonne bulldozer of major Japanese producer Komatsu, which is the largest in Europe. Its exhaust contains about 80% less particulate matter and about half as much nitrogen emissions as previous models.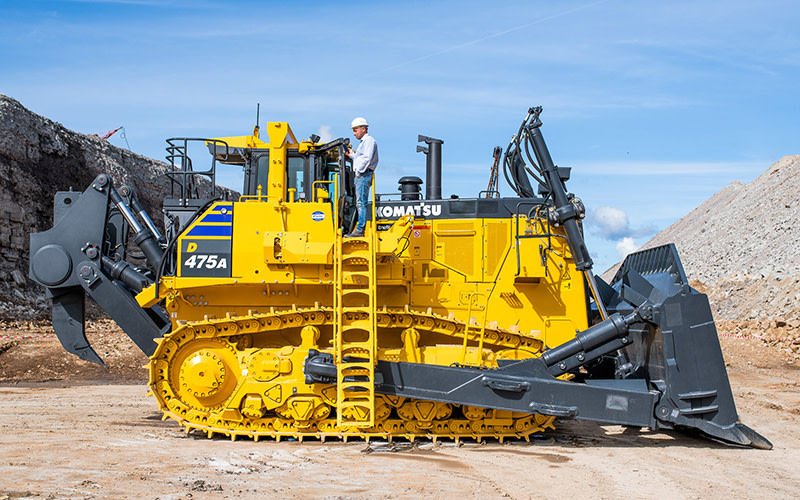 Komatsu has also paid special attention to productivity, operator comfort, machine durability and safety with the new bulldozer (D475A-8E0).
"Enefit Kaevandused has always been a company that uses the best possible techniques and technology. Today we have accepted the top achievement of industrial mechanical engineering - a bulldozer with minimized emissions and about 10% higher productivity. We are glad that the conquest of the world of new types of technology starts from the Narva quarry," said Andres Vainola, the Chairman of the Management Board of Enefit Kaevandused.
Gregory Peeters, the Product Manager for Komatsu's large quarry machines in Europe, emphasized that mechanical engineering is increasingly focused on environmental friendliness. "Komatsu is following the trend, leading the way in technological innovation in the field. We have launched new, more efficient, safer and more environmentally friendly bulldozers. To date, three such machines have been produced. The first of them was delivered to Estonia - to the Narva quarry of Enefit Kaevandused, a company belonging to Eesti Energia. One is on its way to the United States and one will be sent to Australia," said Gregory Peeters. He added that the future belongs to such "green" and safer machines. "It is important for many industrial companies to ensure environmentally friendly, safe and efficient production. The new type of technology will help achieve these goals," said the representative of Komatsu.
The bulldozer, made at the Osaka plant in Japan, whose main job is to loosen and push oil shale, was named Baruto. Former sumo wrestler Kaido Höövelson is the so-called godfather of the machine and also personally participated in the world premiere of the bulldozer and put a name sticker on the machine.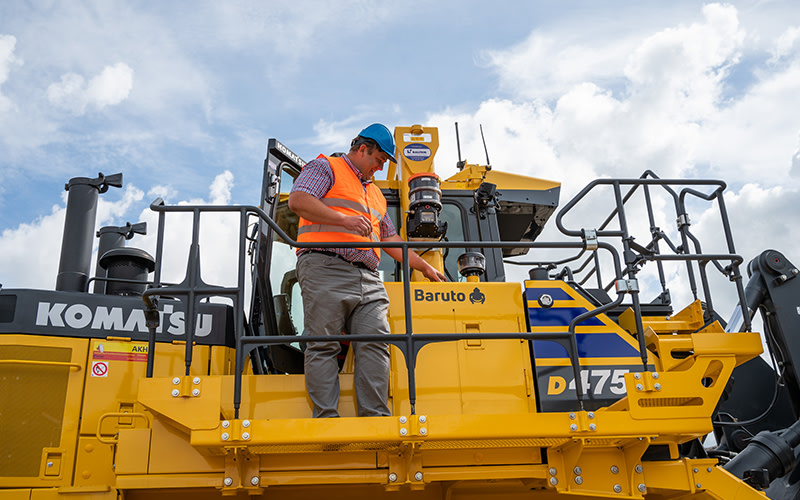 In addition to significantly reduced emissions, the bulldozer also features operator comfort and safety. For example, the machine is prevented from moving when no one is in the driver's seat, and the emergency stop switches can stop the machine immediately in the event of an emergency at the touch of a button.
The platform surrounding the entire machine and the hydraulically movable staircase ensure easy and safe access to all components for the personnel working on the machine. The bulldozer also helps the operator work more fuel-efficiently and environmentally friendly by displaying respective instructions and indicators on the machine's monitor during operation.
The Narva quarry mines oil shale, which Eesti Energia will use to produce liquid fuels and electricity. The mined area will later be reclaimed into forest. Approximately 65 ha of land is recultivated every year in the Narva quarry, which is comparable to 90 football fields.