Narva Power Plants
The Narva power plants are the Eesti, Balti and Auvere power plants. Their combined maximum annual production capacity is 12 TWh. As Estonia consumes about 8 TWh of electricity per year, the Eesti Energia power plants play an important role in supplying the country with electricity.
One person consumes an average of 1200 kWh of electricity per year. The electricity produced in Estonia could supply 7.5 million people.
Auvere power plant – most efficient
The most efficient and newest power plant at Eesti Energia is the Auvere power plant that was launched in 2015. It uses oil shale as its main fuel, and up to 50% of it can be replaced with biomass.
The Balti power plant can also use biomass at up to 50% of its fuel consumption. The total renewable energy produced from biomass in the Narva power plants can cover the annual electricity needs for up to 50,000 Estonian families with average electricity consumption.
The Auvere power plant can cover nearly one-quarter of Estonia's electricity needs.
Sustainable use of resources
In addition to oil shale and biomass, the energy production units of the Narva power plants also use oil shale gas, a by-product of shale oil, to produce electricity. This way we extract increasingly more of the energy contained in oil shale.
The processing of oil shale into energy generates oil shale ash, which has an increasing number of uses. Among other things, it has been successfully tested in road construction and as a soil treatment.
The nitrogen and sulphur emissions of the older production units have been reduced several times owing to environmental investments, and we can now enjoy some of the cleanest ambient air in Europe.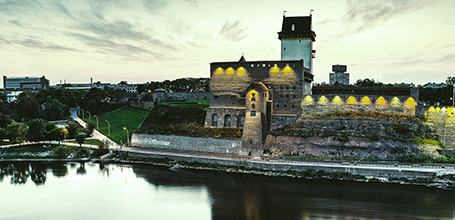 Narva Heating Network
The Narva Heating Network supplies heat from the Balti power plant to over 60,000 people in the Narva area. The company maintains roughly 76 km heating network in Narva, manages renovation projects on the network and invests in ensuring its reliability.
Narva has the cheapest heating costs in Estonia.