Consume smartly
The app allows you to view your consumption volumes with hourly precision. For example, if you heated the sauna the previous evening, you can assess the effect of the electric sauna heater on your household's electricity consumption.
You can also compare longer periods (week, month and year) for a more thorough analysis. This can give you an idea, for example, of how your electricity consumption changes as the number of people in the home increases (e.g. as your family grows).
Reduce your bills
The app shows you the exchange prices of electricity for the next day. By planning your consumption on the basis of actual prices, you can directly influence your electricity bill. The larger your household and house, the more tangible the results of economical electricity consumption.
The app delivers the greatest benefit in regard to the Exchange Package if you select the hourly price calculation.
Smart notifications
Set up the notifications you want to receive in your app to find out the next day's electricity prices and manage your consumption for times of the day with better prices. The app will also notify you if your electricity consumption differs considerably from your ordinary pattern.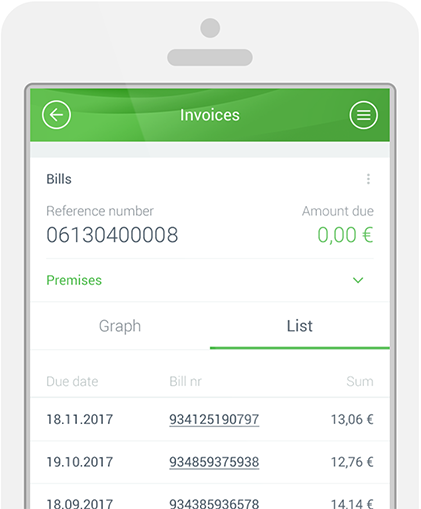 Bills and contractual information
In addition to consumption information, the mobile app shows you the details of your electricity contract (package, price, etc.) and your electricity bills, which you can also conveniently pay.
Select what you want to see
You can set up the opening page as you like: from among the various tools and views, select the most important ones that you want to see first. For example, if you have multiple places of consumption, you can view the consumption history for all of them on the opening page.
A smart wizard for your business
Business customers can also use the app. If you have several companies, then the landing page will display a quick glimpse of the electricity consumption at all your places of consumption. Whether a cafe, a flower shop, grocery store or factory ‒ consumption history, smart notifications, and bills are conveniently available in your smart device 24/7.
Business customers can only log in to the app using Mobile ID.
Download our free app for iOS or Android smart devices