Eesti Energia is a desirable employer
CV-Online.ee awarded us prestigious title
1st place - TOP employer in production area 2020
CV-Online.ee awarded us prestigious title
4th place - TOP employer 2020
CV-Online.ee awarded us prestigious title
1st place - TOP employer in North-Estonia 2019
CV-Online.ee awarded us prestigious title
1st place - TOP employer in production area 2019
CV-Online.ee recommends
TOP Employer 2018
CV Keskus.ee recommends
Most attractive employer of Estonia 2018
KANTAR EMOR recommends
1st place - The most prestigious employer 2017
INSTAR recommends
1st place - Attractive employer 2017, Based on the study of Estonian higher education institutions in the category of technical students
INSTAR recommends
1st place - Attractive employer 2017, Based on the survey of Estonian vocational schools
CV Keskus.ee recommends
1st place - Estonia's Most Desirable Employer 2016
Attractive Employer 2015
3rd place - according to INSTAR 2015 student survey results
CV Keskus.ee recommends
1st place - Estonia's Most Desirable Employer 2015
Attractive Employer 2014
2nd place - according to INSTAR 2014 student survey results
CV Keskus.ee recommends
2nd place - Estonia's Most Desirable Employer 2014
Attractive Employer 2013
3rd place - according to INSTAR 2013 student survey results
CV Keskus.ee recommends
1st place - Estonia's Most Desirable Employer 2013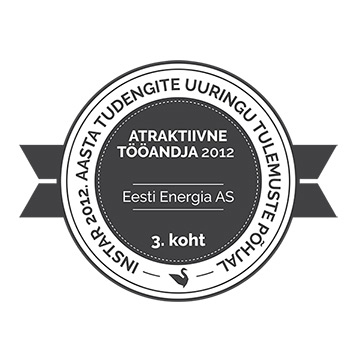 Attractive Employer 2012
3rd place - according to INSTAR 2012 student survey results
Join us as a trainee!
If exciting experience appeals to you and you want to contribute to the work of Estonia's most preferred employer* by working in your chosen field, apply for a traineeship! Students and recent graduates of higher or vocational education are welcome to apply for a traineeship.
Nearly 250 young people receive a traineeship with Eesti Energia every year, 75% of them are engineering students.
Discover and learn!
We especially need young people with a scientific view of the world and innovative thinking to develop the energy field today and in the future. We aim to be the first choice and a long-term employer for engineers. We therefore support initiatives that help to raise, deepen and maintain young people's interest in the physical sciences and we cooperate with research and educational institutions in many ways.