Solar panels
Generate your own electricity and save today!
Half your electricity bill with solar panels
Solar panels are the best and easiest way to start producing 100% clean energy yourself. You will save on electricity, network charges and state taxes, and can sell the rest of your electricity back to the network. Investing in panels creates a stable return and increases the market value of the building.
Our experts are here to support you every step of the way – from concept to delivery. We also offer a monthly payment solution that allows you to start saving on your electricity right away without having to tie up large sums into the investment.
Calculate a suitable solution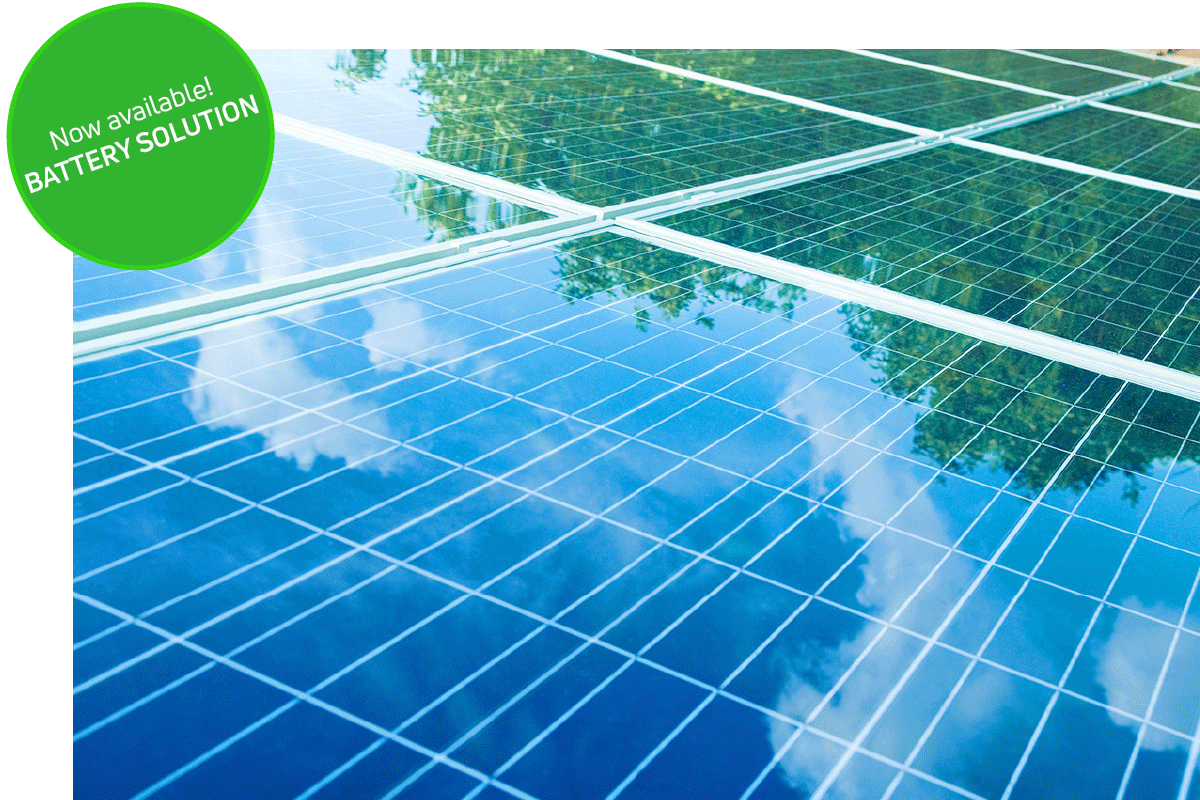 Five steps towards solar energy
Calculate how much you would save
Get a first estimate of the size of the investment, the potential financial return and the payback period.
Price offer
We review your information and make an accurate quote. If you wish, we also offer payment by instalments and advise on subsidies.
It's a deal!
We will enter into a contract and we will prepare the project and prepare the necessary permits and documents.
Installation
We agree on a suitable time and install the system within a few days.
Start producing!
Enjoy cheaper electricity and keep an eye on the plant's productivity with your smart phone. We are only one phone call away in case of questions, malfunctions or maintenance needs.
Solar panel calculator
Calculate which solar solution is best for your home or summer cottage.
If you would like to build a solar park to produce electricity to sell to the network, send your contact information to us at paikeseenergia@energia.ee and we will contact you!
What are the benefits of a battery solution?
It increases the share of self-produced electricity consumption
Adding a battery to a solar solution increases the consumption of self-produced energy by up to 20%. This also results in greater financial savings at the expense of electricity purchased from the network and network charges.
Uninterruptible power supply even in case of network failures
When the network electricity supply is interrupted, an ordinary solar station switches off. By purchasing a solar station with a battery solution and a back-up box, an uninterrupted power supply is also guaranteed in the event of network failures.
The Huawei Luna2000 lithium ion batteries we offer are safe and reliable, and 95% recyclable.
The home storage device is quite small in size and will be installed on the wall or floor of a suitable room in your building.
Why Eesti Energia?
Carefree and smooth process
Our solar energy experts do their best to make everything go smoothly from idea to implementation. We think alongside you and create the best solutions, apply for the required permits and assist with the network contract.
We'll be with you later as well
Since this is a long-term investment, we can guarantee that we will be there for you today and in the years to come.
Reliable quality
In addition to the valued knowledge, we offer equipment produced by the world's leading manufacturers and Eesti Energia's experienced partners will take care of the installation. Our equipment has a warranty of up to 15 years and the work has a 2-year warranty.
Personal approach
We find solutions that suit the possibilities and needs of each customer that helps lay the foundation for a more energy-efficient and environment-friendly lifestyle.
Complete solution
We offer an installment payment-based solution for the acquisition of a solar park, which helps to start producing environmentally sustainable electricity without a large upfront investment. In addition, we buy back the unused solar electricity with zero margin and offer an electricity contract on good terms: 100% renewable energy based Exchange package with 50% cheaper margin and with no monthly fee.
Frequently Asked Questions
Most of the solar power plants we see on the roofs, facades or floors of buildings need network electricity supply to function. If this supply is interrupted, the production of solar energy will also be switched off. By adding a storage solution in the form of batteries, and a back-up box to your solar station, it is possible to continue consuming electricity in your household even in the event of a power failure.
For a household, it would be good for a specialist to inspect the solar power system (visual inspection, circuit measurements, inverter software update, etc.) every two to three years. You don't need to worry too much about snow in winter, as snow will not damage the panels and there is hardly sufficient sunlight in midwinter in any case. In autumn and spring when there is more light, the panel is capable of self-cleaning. The panels will start generating electricity from the light glimmering through a thinner layer of snow, the panel will warm up slightly during operation, and this will help the layer of snow slide off or melt.
Estonia is a suitable place for the production of solar electricity. In summer, the bright time of the day will start earlier and end later than in Central Europe. Solar panels generate energy 12 months a year. The peak season for solar panels in Estonia is in April–May when the weather is cloudless and sufficiently cool. The panels produce energy even in cloudy weather and guarantee 10–20% of the yearly produced amount of electricity in autumn and winter.
The electricity produced by solar panels can be used for self-consumption only on the property where they are installed. Even if you have included, e.g., in a micro- producer contract, measuring points for both the house and the apartment, the principle of net balancing of accounts will be applied to the joint invoice. The sum calculated for produced electricity left over after self-consumption and supplied to the network will be set off against the monthly joint electricity bill.
It would be good if the panels were facing south but this is not always possible. Contrary to popular belief, panels can be oriented to any cardinal direction, including north. However, you need to take into account there will be less productivity: At 35 degrees, east and west give 20% less output and north – 50%.
Related topics
Small producer contract
Sell your produced ​​electricity to the network!
On producing
Solar energy myths
Let's bust the most common misconceptions!
Solar myths
Energy saving
Smart tips for saving energy
Start saving
Support schemes
It is possible to apply for governmental investment support to install a solar solution.
More information can be found HERE.
Equipment and warranty
We use the following devices from the world's leading major manufacturers to build solar solutions:
PANELS: Recom. Both mono and polycrystalline panels are available.
INVERTERS: Huawei
BATTERY SOLUTIONS: Huawei.

Equipment lifetime and warranty period
Solar panels have a life span of at least 25 years. Their capacity decreases by about 0.6% per year, and after 25 years the manufacturers guarantee a power output of about 85%. Only the inverter should be replaced about 15 years after installation.
The devices have the following product warranties - 15 years for panels, 5 to 10 years for inverter, depending on capacity and 10 years for battery solutions.
We provide a 2-year warranty on the installation of the equipment.
Solar panels query
Calculations made in the calculator are saved and will be automatically added to the query.