Blog
Useful and smart tips from the world of energy
Reimbursement of energy costs: What you need to know
Home, Savings
In order to reduce the effect of increased energy prices, the state has developed three measures: reimbursement of electricity and gas network fees to all consumers, and partial payment of electricity, gas and heating bills to households with up to medium income.
1. Reimbursement of electricity network fees for everyone
The electricity network fee is 50% reimbursed to all consumers – this is automatically added to electricity bills as a half lower cost for the network service. Read more »
2. Reimbursement of gas network fees for everyone
Consumers are reimbursed 100% of the gas network service fee from December to March. In order to receive the discount, consumers do not have to do anything – the state will cover the network service fee for end users of gas, and the consumers will receive correspondingly smaller bills.
3. Reimbursement of electricity, gas and heating bills for up to middle-income families
Families will be reimbursed 80% of the increase in their electricity, gas and heating bills.
A household qualifies as a beneficiary if their net income is below the median level. It is calculated at EUR 1,126 per one person in a family per month, the same amount with a weight of 0.5 for each subsequent member of the household aged 14 and over, and 0.3 for children under 14.
Preliminary information on whether a family can receive the support and how much it could be is provided by the sample calculator below. Local governments will make a more precise and final calculation of the compensation.
Energy costs compensation calculator
Target group families are reimbursed 80% of their total energy price that exceeds 120 €/MWh (12 s/kWh) for electricity, 49 €/MWh (4.9 s/kWh) for gas and 78 €/MWh (7.8 s/kWh) for district heating.
Local governments are preparing to start accepting applications as soon as possible, and it is likely that people can start claiming compensation in January.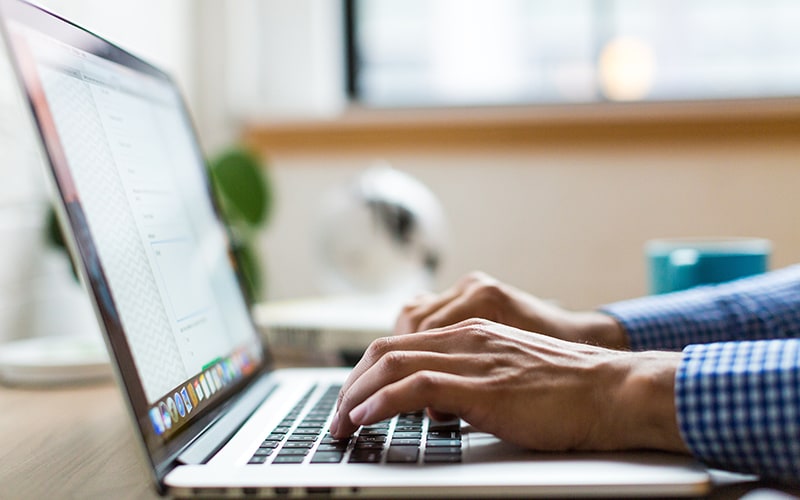 Where and when to apply for the compensation?
The application must be submitted to the local government according to your place of residence in the population register. This is the case even if the applicant's actual place of residence is elsewhere. The time at which applications can be submitted is determined by each rural municipality or city government and announced on their websites or some other way.
It must be taken into account that local governments have the right to determine their own reception times when applications for compensation are accepted. Thus, precise information on when it is possible to apply for support can be obtained from your local government.
It is recommended to submit the application as a total for several months – fewer applications are required this way.
Applicants must submit an application form to their city or rural municipality government together with documents certifying energy consumption. Each municipality will establish and publish a form on its website once it is clear when they will be able to accept the applications. Depending on the local government, the application may be submitted through an online form or digitally signed, but also on paper if desired.
What documents must be submitted?
The application must be accompanied by documents certifying the energy consumption of the dwelling for the type of energy for which compensation is requested. For example, if support is asked for electricity costs only, it is not necessary to submit documents for gas or district heating.
the amount of electricity consumed (kWh or MWh) and total electricity costs (in euros)
the amount of gas consumed (kWh or MWh or m³) and total gas costs (in euros)
total district heating costs (in euros) if the applicant lives in an area with the district heating price ceiling approved by the Competition Authority
district heating costs and average monthly or end-of-month unit price (kWh or MWh) during the month covered in the application and in January 2021 if the applicant does not live in an area with the district heating price ceiling approved by the Competition Authority
As a customer of Eesti Energia, you can easily download your electricity and gas bills from our e-service.
How to download bills from Eesti Energia?
Log in to our e-service at energia.ee
Select the "Invoices" section
Find the "PDF" button next to bills issued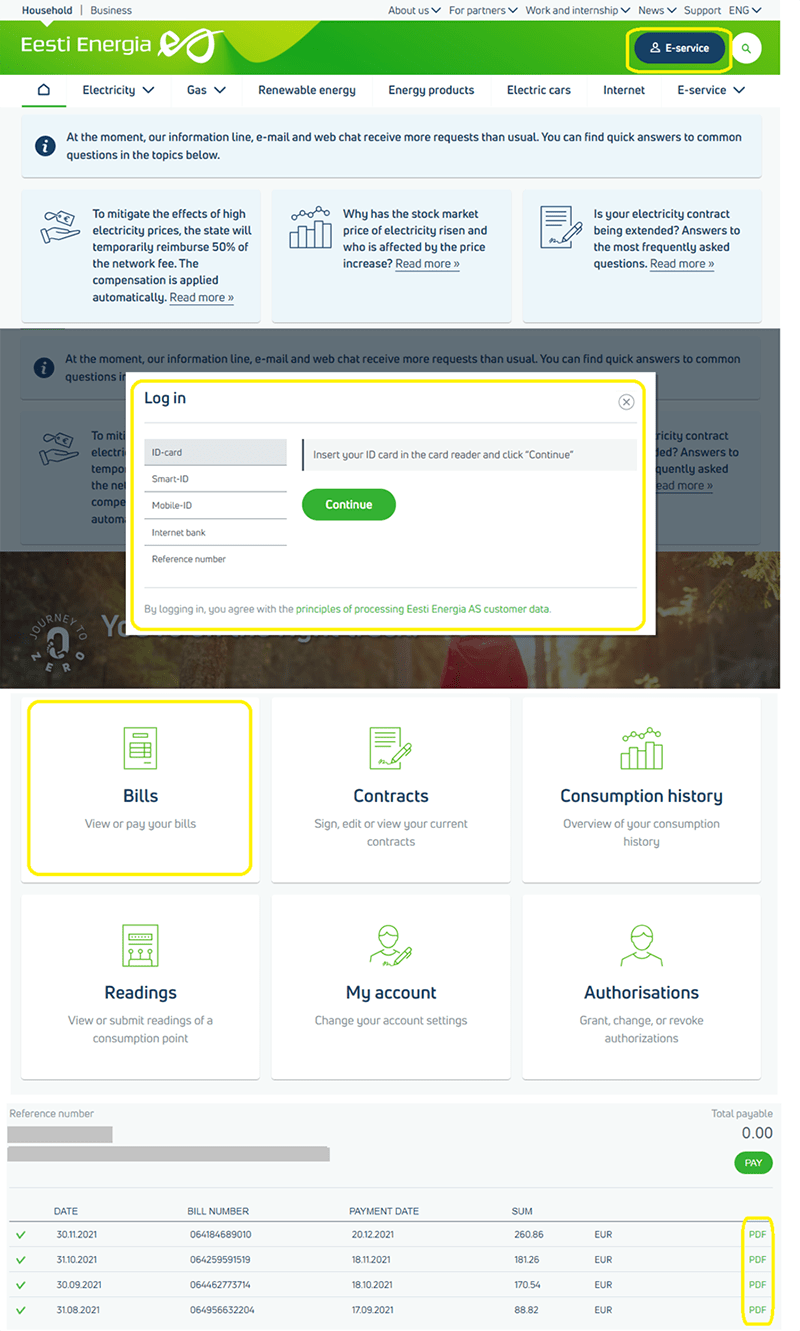 ---
Sample invoice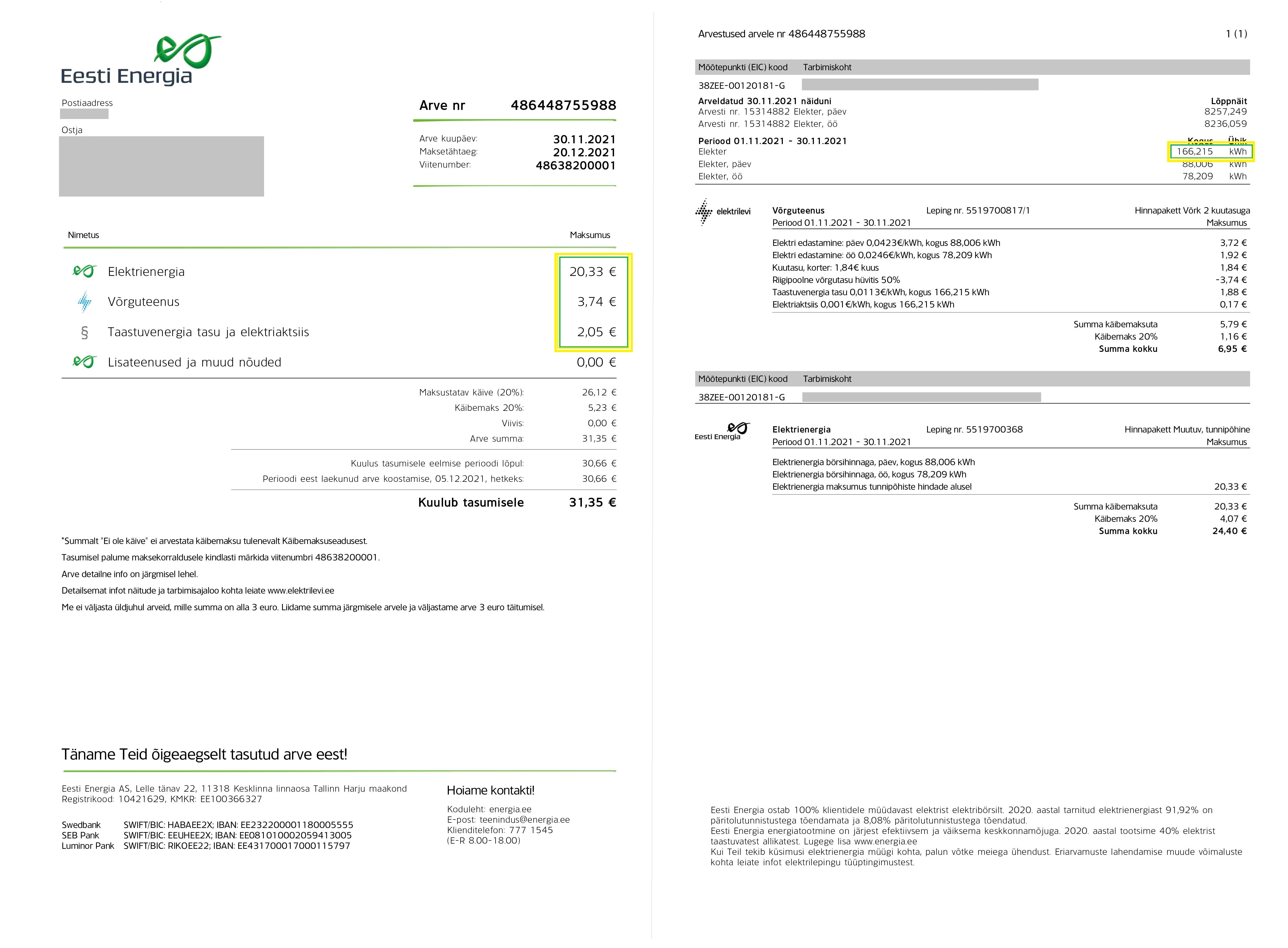 More information is available on the website of the Ministry of Finance »
Source: Ministry of Finance